Public hot spring baths
Open-air bath
Water bath、Low temperature bath、Open-air bath、
We offer various types of baths.
A relaxed sense will heal your fatigue.
Soak in a large bath filled with plenty of hot water and wash away your daily fatigue.
We have set up public baths and washrooms in several.
Towels and yukata are provided in the public bath, so you can use them as they are.
Location
2nd floor
business hours
15:00to23:30 (23:00 end of reception)
06:00-10:00 (09:30 Registration is closed)
Price Free (for hotel guests)
※Available for general customers ¥ 1,200
Rest rooms

There is a tasting corner in the men-only rest room.
There is also a reputed beer and shochu.In addition, miso soup is also available.
Please try after the bath.
Location
Place 2F next to the public bath
Business hours
15: 00-23: 30 (final entry 23:00)
6:00 to 10:00 (final entry 9:30)
Facility
Beer server, high ball server, shochu, sake,
popcorn, miso soup server, tubette
Sauna room
Makeup room
Sauna room
There is also a sauna, which will blow away your travel fatigue!
The flow of blood is improved!
It is said to be effective for chronic rheumatoid arthritis, autonomic imbalance and menopausal disorders.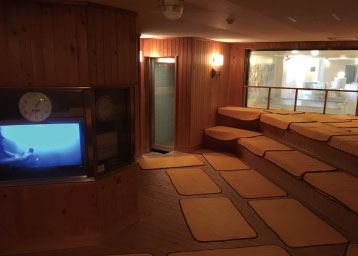 Makeup room
・ Bath towel ・ Face towel ・ Toy lotion
・ Emulsion ・ Hair Tonic ・ After-shave
・ Dryer ・ Cotton